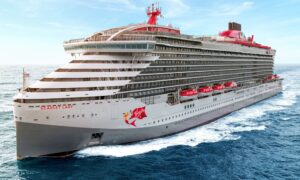 On April 5-9, 2023, I went on  Virgin Cruise's adults only Scarlet Lady as a solo cruiser, and oh what an amazing experience!  Virgin Voyages cruise ships are totally in a different class than other cruise ships. I guarantee that you have never experienced a cruise ship like this.  I recently become an independent TA with travelfun.biz, and I wanted to experience Virgin Voyages Scarlet Lady for myself as a solo cruiser. I am not one to take a lot of pictures while cruising, due to always wanting to be in the experience. I did take a few pictures and a couple of videos this time around. I only wish I had taken more.
My boarding time out of Miami was 2:30pm. I arrived at 2:00pm, and I walked right in. They give you a choice of bracelets to wear for the duration of the cruise. I chose the one that said naughty on it.  These bracelets are used to get into your cabin with a little tap on the screen by the side of the door. You tap to get drinks, etc. So easy.  I went straight in, and the boarding process maybe took about 10 minutes before I walked through the all mighty doors of Virgin's Scarlet Lady. I was so fascinated and so in awe of the unique and fabulously dressed greeters that I forgot to take pictures of them . So Sorry. Next time, and believe me there will be a next time. The greeters were amazing, and like nothing you have ever seen on any other cruise ship.
I arrived at my cabin, and after a few instructions from my cabin steward on how to turn on the lights, I was ready for whatever lies ahead. The lights, TV, curtains, etc. are all run by a computer electronically in the room. You even have your choice of  color ambiance. My Sea Terrace, like all sea terraces had a red hammock. Cute!
I was both surprised and delighted when I saw the invitation in my cabin to attend a solo sail away and a solo dinner at Razzle Dazzle. I love how they cater to solo cruisers. Since I do not usually travel alone, it helped me to feel like I was not alone. I attended the sail away, which,  by the way, was hosted outside in the back of the ship. Many solos attended. Dinner was at 6pm, so I hurried over there only to be the first one seated. It didn't take long before my table of around 30 solos  was filled. There was another smaller table with solo cruisers as well. I was told that usually there are only about 20 solos on each Virgin cruise; however, this cruise had around 50. It was a great way to meet other solo cruisers on the cruise. They didn't just  do this for one night. It was a 4 night voyage, and there were 3 hosted solo evenings. The second evening was around 5pm. It was hosted by one of the dancers, and she actually lives in Miami.  The third night was game night hosted by a fun dancer around 6pm. He got a few who attended to play Bananagram, my new favorite game to bring along with me on cruises. There were around 25 of us at that hosted event.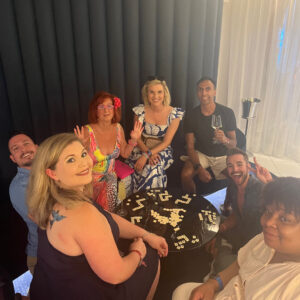 The first evening at 11pm, the ship had what was called Pajama Night. I brought my pj's along with me, but I am sorry to say I did not attend due to crashing early that night.  I hear that Pajama nights can get pretty sexy. Next time, for sure, T
he second evening was Scarlet night, and everyone dresses in red. I was told by others who have been in these cruises that you never know what you are going to see people wearing. It is a party atmosphere for sure. I decided to wear a pink jumper that was actually see through, but I did some adjusting due to not being sure what to expect. I heard that when it gets late enough many people jump in the pool fully dressed. Here are a couple of pics from Scarlet Night.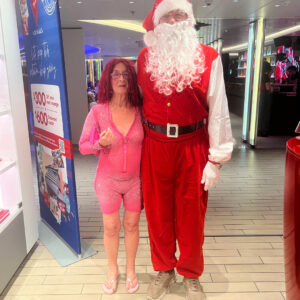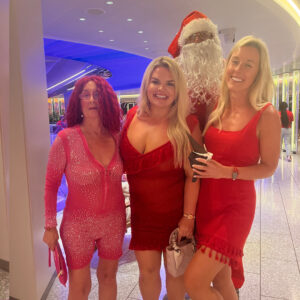 Due to it being an all adult cruise, I did find out that there was a topless deck on Deck 17. Since I live in a clothing optional resort in Florida, I ventured up there to get a mostly all over tan; however, no one was topless. I stayed a bit. Just as I was leaving for my appointment for my  massage, I asked one of the dancers if this was the correct deck.  He said yes, but that someone has to start it.  It was the last day of the cruise. I wish I had known sooner. 
Being that I am an independent TA for travelfun.biz, I was able to take a tour of Richard's roof top. I heard through the grapevine that you can be topless up there, but you have to be invited. `We were told that usually there are about maybe 10 people that take the tour, which begins at 8am; however, our group at 30. I took videos of the Mega Rockstar suite, which is $10,00 and also of Richard Rooftop.  They are not uploading correctly. If anyone is interested in seeing what the Mega Rockstar Suite and Richard Rooftop looks like, please email me at pinkchicktravelfun@gmail.com, and I will be more than happy to email you the videos.
Are you single?
Come with us on a singles cruise.
Scarlet New Year's Ahoy 2023-2024!
Awesome Virgin perks and deals if you book now.
Dec 27, 2023 – Jan 2, 2024
6-Nights from MIAMI on VIRGIN VOYAGES SCARLET LADY
Adults-Only FUN travel adventure includes lush accommodations for the upscale single cruiser! Miami • Roatan • Costa Maya • Beach Club at Bimini • Miami
I was just on The Scarlet Lady about a month ago. I will be blogging about it in the next few days.
You can fill out the form with my name as the referral, and I will contact you, or you can contact me directly at pinkchicktravelfun@gmail.com or call me at 813-230-8518.
June 23-20, 2024, 7-Nights
From BARCELONA on
Virgin Voyages SCARLET LADY
Barcelona • Marseille • Cannes • Palma de Mallorca • Ibiza • Barcelona
Adults-Only FUN travel adventure includes lush accommodations for the upscale single cruiser! Barcelona • Marseille • Cannes • Palma de Mallorca • Ibiza • Barcelona
I will be one of the hosts on this cruise.
Click here to check it out.. You can either fill out the form with my name as the referral or you can call me at 813-230-8518 or email me at pinkchicktravelfun@gmail.com for more details.
I was just on Virgin about a month ago, and it was so much fun. No adults, and a very fun crowd. I have not had a chance to blog about my experience yet. Hopefully in the next few days.
Watch The Virgin Voyages Zoom Gathering For How You Can Earn OnBoard Credit When You Book With Me Through TravelFun.Biz.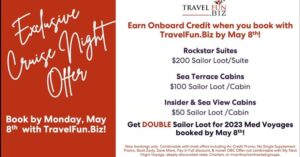 Bonus Bonus Bonus!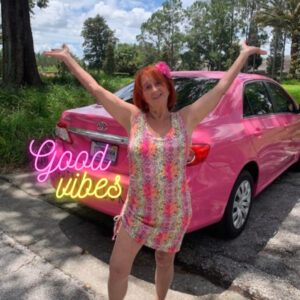 Book one of the two single sailings through me, and you will receive a free complimentary 1 question psychic reading by email once you have paid in full. WOOHOO!