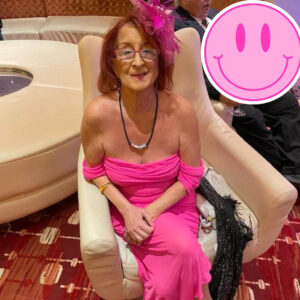 I just had to share my experience with cruising on the Celebrity Eclipse on October 28, 2023, since I have never been on the Celebrity Eclipse. I have been on Celebrity Apex, Celebrity Summit and Celebrity Reflection.  Celebrity Summit has the best beds. Comfort is very important to me (as everyone else). This was a cruise to the Mexican Riviera with an overnight in Cabo San Lucas. I flew from Florida to Los Angeles to take this cruise.
In Cabo, I stayed on board the first day; however, the second day, there were 11 of us who got on the tender to  Lunch at a place called The Office. I was not impressed, because we were all outside in the sand. We were covered by umbrellas. It was very hot and flies were everywhere; however, I absolutely loved the people  I was with. There was lots of laughter and conversation. The food was a bit expensive. For a hamburger, it was $495 pesos. With a glass container of water  and tip my bill came to $50.
We had a funny experience after leaving The Office in a huge cab that was able to take 11 of us back to the ship. The driver was playing loud music, and everyone was singing alone while we were collecting $3 each for the driver. We came up $3 short, and suddenly we realized that we had left Ray behind. The cab driver agreed to go back to find him. He realized after being in the bathroom that he had been left behind, so he took a cab back. We ran into him in one of the stores. We all felt so bad. After that, every time we saw him, we would yell out "Where's Ray".  After  that experience, when I heard "Don't worry. Linda, we won't leave you behind", I told them that their reputation left very little to be desired. 🙂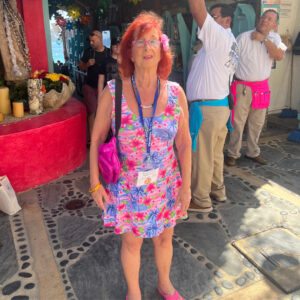 I did not get off the ship in Mazatlan, since I have been there before, and I love my sea days; however, I did get off in Puerto Vallarta, since it was the Day Of The Dead. There were .about 15 of us  who got off together and took a cab to the Malecon. Eleven of us went to a restaurant called La Chata. My friend, Pam, who lives in Puerto Vallarta joined us. What a fun time we had. My lunch (which was hamburger and french fries) was only $7.00 + tip, and the food. was delicious. Afterwards, along with my friend, Pam, a few of us went to the Malecon together.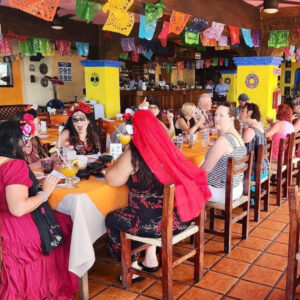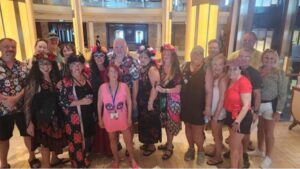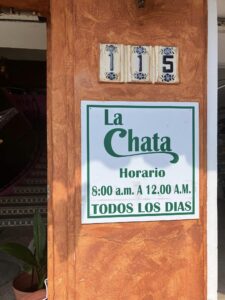 Now I want to share my feelings about the Eclipse and my experience with them.  I was on  a hosted singles cruise with Vacations To Go, and there were around 200 of us.  It was my 8th hosted singles cruise with them, and I got to see old friends and make new friends. Singles cruises are so much fun and very addictive.
From my understanding, the ship was an older ship. One thing that I did not like was that the menu in the main dining room   never changed except for the last two nights. They just had a different name for each main course.  I ended up having dinner in the buffet earlier in the evening a few of the nights, and sitting with my group in the dining room for desert. I have been on other ships where you can ask for other  main dishes,  they  will get it for you. This ship did not let you ask for other main dishes.  I asked for any kind of chocolate dessert that was not on the menu. I guess that it was not chocolate night, because  to my surprise the waiter said no to letting me have a choclate desert.. The second to the last night, they had lobster. The last night after I had decided to eat in the buffet earlier and have desert with my group, I discovered that they had added several new dishes to the menu. At least I got my chocolate cheese cake desert.  My question is "Why wait until the last night to change up the manu"?
My cabin steward was fabulous, and was always there for  me. I didn't require too much (just a new hair dryer). I looked forward to the chocolate on my pillow every night. I had  some trouble with wifi the first couple of days. I went to the I Conciege to see if I could get better reception in my cabin. I am taking an online Kaballah course, and I wanted to be able to keep up with my classes., and they literally set up a modum in my cabin. Now they went way above what I expected them to do, and for that I was very grateful.  I absolutely loved the spa, which I spent more time in there than expected. I got foot reflexology,  a must for me, since my feet and ankles seem to swell on cruises. Celebrity's  uses Elemis products, and they are a must for every massage. I even have some at home.
I am also in the travel business, and I am on the travel team with TravelFun.biz. If you would like to join our travelfun.biz singles group in June 23-30, 2024 (not affilated with Vacations To Go),  We have a singles Virgin Cruise aboard the Scarlet Lady out of Barcelona. "French Daze and Ibiza nights".  CLICK HERE to visit my Facebook page for more information about the June 23-30 travelfun.biz cruise.  I was on the Scarlet Lady in April 2023, and I loved it. I can't wait to go again and experience Scarlet night and Pajama night, and most importantly France and Spain. Feel free to email me at pinkchicktravelfun@gmail.com.