Description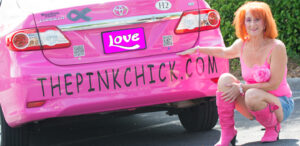 To purchase Linda Kaye, Pink Chick Psychic's ebooks, "How To Know When Your Soul Mate Is Thinking About You", and The Dreamers Guide To Creating The Sexy Juicy Soul Mate Of Your Dreams, CLICK HERE.
Get a reading today and

find out why people call Linda Kaye the Pink Chick Psychic!  She is all about love BABY!
Pink Chick Psychic is a professional, experienced and very accurate clairvoyant psychic, clairsentient spirit writer (automatic writing) psychic. She will astound you with her spine tingling accuracy.
In this 4 question psychic reading, each question must be no more than 15 words. The less she knows the more accurate your psychic reading will be. 
 She will answer questions about your love life including future soul mate  psychic reading, present soul mate psychic reading, future soul mate psychic reading, reunite lovers psychic reading, and  readings for straight or gay couples, and non binary couples, singles looking for love, monogamous relationships, open relationships, polyamory relationships. Pink Chick Psychic does not judge.  That is because she lives at Caliente Clothing Optional Resort in Florida, which caters to swingers; however, she is monogamous and not a swinger. 
She will also answer questions about career and finance psychic readings, your pet's feelings for you, heavenly messages from those who have passed on, angel messages.  If you give her the exact address of a home you are interesting in buying or renting, she will do an home energy reading on that address to let you know how you will feel in that home. She does not do psychic readings on death, illness or lottery numbers.